Suite Quiz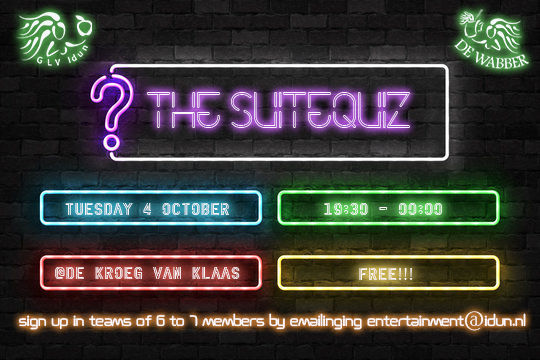 Lovely first years and other Idunaren,
It is time for the very first Wabber activity of the year: The Suitequiz! You are all welcome in De kroeg van klaas to show off your knowledge and enjoy some drinks with your team members. This activity is especially fun for first year students (and their godparents) to get to know GLV Idun and off course each other better, but is open for all Idunaren. The Suitequiz will take place on Tuesday 4 October and you are welcome at 19:30.
You can sign up in teams of 6 to 7 members, by emailing entertainment@idun.nl the names of the team members and your own amazing team name. To make it even better, this activity does not have an entrance fee, so make sure you don't miss it!
Hope to see you there!
The Wabber